Leonova Emerald
Leonova Emerald® is a straightforward and efficient portable instrument for condition measurement in rough industrial surroundings. It is the perfect wear and tear choice for powerful analysis and troubleshooting in machine condition monitoring.
Lexical definition: em·er·ald \'em(ə)rəld\. Member of the beryl family of minerals and the most famous and valuable green gemstone. The name Leonova Emerald is inspired by the gem's reputation as the stone of foresight and prediction.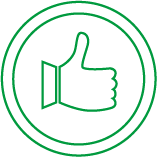 A RELIABLE PARTNER
A rugged and versatile instrument for routine measurements and troubleshooting tasks, Leonova Emerald has the capacity to optimize the efficiency of your condition monitoring program.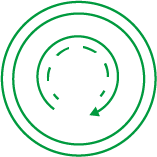 ENGINEERED FOR PERFORMANCE
Measurements are more precise and spectrums more detailed than ever before, making in-depth bearing and vibration analysis possible even on the most complex industrial applications.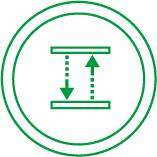 DESIGNED FOR EASE OF USE
Multiple measuring assignments can be carried out with the push of a single button. Immediate condition evaluation, alert generation, historical data, and trends – all delivered right on the screen.
BUILT TO LAST, MADE TO PERFORM
Providing reliable and actionable information on the condition of critical machinery, Leonova Emerald enables optimal coordination of maintenance and repairs. Packed with cutting-edge technology and with a rugged design, Leonova Emerald provides many years of reliable service under the toughest, most demanding circumstances. Designed for use in hazardous areas and hostile environments, Leonova Emerald is also available in an intrinsically safe version.
Leonova Emerald offers highly sophisticated vibration and shock pulse measurement with the patented HD Technologies, providing razor-sharp spectrums even where signals are weak and low in energy content. The instrument's excellent signal-to-noise ratio gives a decisive advantage where weak signals are present among stronger signals, such as in gearboxes.
Leonova Emerald is part of the Leonova line of portable instruments and sibling to Leonova Diamond®.
---
QUOTES FROM OUR CUSTOMERS
"SPM is an extremely professional company that was able to meet our needs. A visit from an SPM representative to our site allowed us to really understand the products and capabilities we required for an upgrade. We had also taken the option to have some of our staff trained in on our chosen unit, which has already had a positive outcome to all involved in the capturing of data. Lastly, the product was ordered and received with minimal effort. For sure, SPM are our go-to people."
Chris Giles, Doppelmayr Cable Car (Using Leonova Emerald)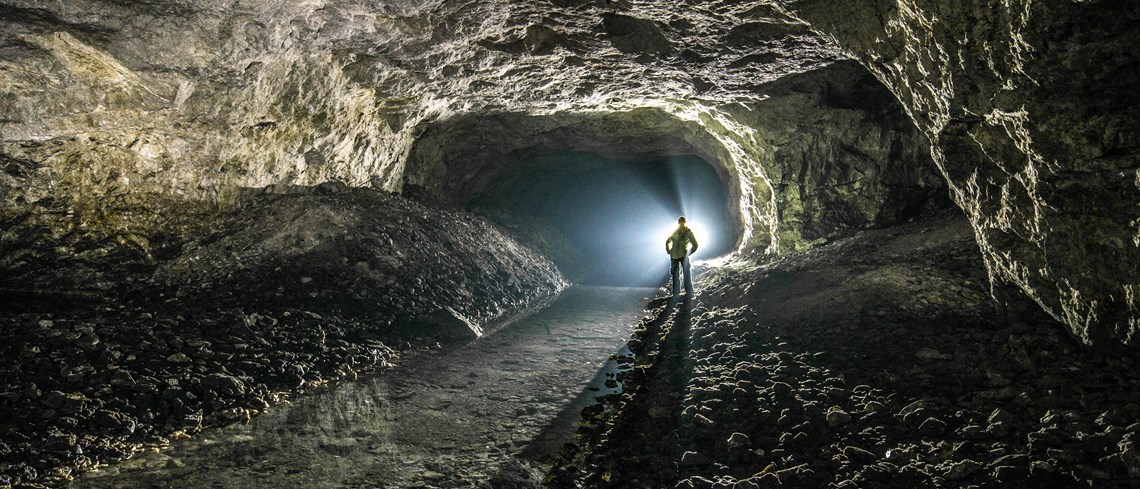 One of the most advanced ATEX/IECEx-certified instruments on the market, Leonova Emerald IS provides sophisticated technologies and usability in a single measuring unit. The instrument is built to withstand harsh environmental conditions.
By clicking "Submit", you agree that your message and personal details will be sent by email to relevant recipient(s) at SPM Instrument. You hereby also agree that SPM Instrument and its subsidiaries will have access to the information you have provided and that these data will be stored on our email server. The data will not be saved in any other way. We will not use this information to contact you about matters other than those specified in your request. We will not share your information with third parties.
Features
Leonova Emerald includes High Definition Shock Pulse Method (SPM HD®) for bearing condition and advanced vibration analysis for general machine condition and more features, see below. 
Bearing and lubrication condition
Note: Also read about HD ENV® (below) for bearing monitoring.
The SPM HD® Method (HDm/HDc)
The SPM HD® method is a patented further development of the Shock Pulse Method (SPM) in being less sensitive to interference from other signals and therefore unique in its ability to measure from very low rpm (0.1 - 20.000 RPM range). SPM HD is used for fast, easy, and reliable diagnosis of the operation condition of rolling element bearings.
SPM Spectrum™
SPM Spectrum™ is based on extraordinary signal quality and 24 bit A/D conversion that provides razor-sharp resolution and helps determine where a possible bearing damage is located with very high precision.
LR/HR
The LR/HR method was developed from the original Shock Pulse Method for condition diagnosis of rolling element bearings and allows a precision analysis of oil film condition in the rolling interface.
dBm/dBc
The original Shock Pulse Method is based on dBm/dBc that counts the rate of incoming shock pulses per second and provides one value for the shock carpet level and one value for the maximum level (peaks).
The HD ENV® technique
HD ENV® is a patented enveloping technique used for early detection of impact-related events such as gear and bearing damage. A number of predefined filters are available for easy selection; each designed to detect damages in different failure stages. The method utilizes cleverly engineered algorithms for digital signal processing to obtain optimal data for trending purposes.
Vibration Severity plus FFT Spectrum
Measurement of vibration velocity, acceleration, and displacement (0-20kHz frequency range) according to the latest ISO 10816 standards helps to diagnose general machine condition. In addition to the RMS vibration readings, the instrument displays an FFT spectrum, where symptoms of imbalance, misalignment, and structural weakness are easily identified.
EVAM
The EVAM (Evaluated Vibration Analysis Method) measuring technique produces up to 12800 line spectrum with true zoom, provides ready-made machine 'fault symptoms' as well as trending.
Dynamic balancing
Field rotor balancing in single plane according to ISO 1940-1 standard with an initial vibration measurement guiding the user through a balancing procedure with suggestions for correcting the imbalance.
HD Order Tracking
On machinery operating under variable speed, analysis with HD Order Tracking provides reliable data and crystal clear measuring results even when RPM varies greatly during the course of measurement. Order tracking is applicable in a very wide RPM range, from just a few to thousands of revolutions per minute.
Instrument
Dimensions: 306x108x71 mm
Weight: 860 g
Display: TFT colour, 240x320 pixels, 3.5 inch, adjustable backlight
Platform functions
SPM HDm/HDc and/or SPM LR/HR
RMS vibration, ISO 2372
Speed measurement
Temperature measurement
Stethoscope function
Measuring point identification with CondID® memory tags
Recording
Manual recording, free quantity
Checkpoints, free text
Recording of vocal comments
Supports up to 6400 lines, 10 kHz
Optional functions
SPM HD Expert, frequency, and domain analysis
Shock pulse method dBm/dBc
Shock pulse method HDm/HDc
Shock pulse method LR/HR
SPM Spectrum
Vibration ISO 10816 with spectrum
Vibration Premium

HD ENV
FFT with symptoms
6400 lines, 10 kHz
HD Order Tracking
Time signal
Post trigger

Vibration Supreme

HD ENV
EVAM evaluated vibration analysis
12 800 lines, 20 kHz
+ all functions in Vibration Premium

HD Analysis

Vibration Supreme
SPM HD Expert

Balancing, single plane
PORTABLE EFFICIENCY IN CONVENIENT PACKAGE SOLUTIONS
With price cuts of up to 36% off unbundled prices in this special offer, there has never been a better time to upgrade to this heavy-duty, high-performance instrument. Leonova Emerald® is the perfect wear-and-tear choice for powerful analysis and troubleshooting while also providing smart, superior-quality data to your IoT and Big Data systems.
This user-friendly data collector enables high-efficiency measuring routes with instant condition evaluation in green-yellow-red. Packages include the comprehensive software Condmaster Ruby® for further analysis of measurement data.
Basic
Leonova Emerald instrument
Charger
Communication cable
Tacho/temperature probe
Vibration transducer
Magnet foot
Measuring cable
Carrying case, soft
Analysis and diagnostic software
Measuring techniques:
Advanced
Leonova Emerald instrument
Charger
Communication cable
Shock pulse and tacho/temperature probe
Vibration transducer
Magnet foot
Measuring cable
Quick connector, DuoTech
Carrying case, hard
Analysis and diagnostic software
Measuring techniques:

VIB ISO 10816 + Spectrum, Vibration Supreme
Expert
Leonova Emerald instrument
Balancing equipment
Charger
Communication cable
Shock pulse and tacho/temperature probe
Vibration transducer
Magnet foot
Measuring cables
Quick connector, DuoTech
Carrying case, hard
Headset with microphone
Analysis and diagnostic software
Measuring techniques:

VIB ISO 10816 + Spectrum, complete analysis functionality with HD Analysis and VIB/SPM HD Expert, Balancing