Condmaster® Ruby is a comprehensive analysis, diagnostics, and troubleshooting software communicating with all SPM Ethernet compatible online systems as well as portable instruments for condition monitoring.
This feature-rich software has a user-friendly interface with powerful graphical functions enabling users to easily navigate from overview to detailed condition data. It offers a flexible measuring point register, full support for all HD monitoring technologies, sophisticated analysis tools and alarm management, and extensive language support. Green-yellow-red color coding applied at every level, from plant to individual measuring point, enables fast overview. 
MODULAR FLEXIBILITY
Condmaster Ruby is modular and its functionality can be tailored to specific organizational requirements and personal preference. The software is easy to scale up as your condition monitoring program grows.
INTEROPERABILITY
Addressing the need for real-time data integration in industrial enterprise environments, the software offers options that simplify the exchange of data with automation assets, IIoT devices, and control systems in smart manufacturing.
INSTANT CONDITION EVALUATION
Simplicity and ease of use are core values in all our measurement technologies. Condition evaluation in green (normal) – yellow (caution; not yet critical) – red (warning; immediate attention) is the backbone in all our systems.
CONNECTIVITY FOR THE SMART FACTORY
Condmaster Ruby has an easy to implement, Industry 4.0-friendly REST API enabling other resources to access Condmaster data for further processing or analysis. To provide even greater opportunities for interoperability, Condmaster also supports the OPC UA standard. The capability to merge high-quality condition monitoring data into Big Data analytics and machine learning enables more accurate predictions and sharper analysis.
HIGH-EFFICIENCY DATA HANDLING
Condmaster Ruby focuses on efficiency and high through-put. Optimized database management and parallel computing enable fast execution of processes and calculations, thus supporting Big Data analytics. Timely reporting of condition data enables managers to stay up-to-date on the health of critical assets.
A powerful analysis and diagnostics software 

Condmaster contains the expert knowledge needed to evaluate machine condition: 

• A complete bearing catalog 
• Lubricant data
• Bearing life calculation 
• SPM condition evaluation rules 
• ISO limit values 
• Mathematical models for spectrum analysis and fault symptom detection
...and much more. The software has data import and export functions, and full system security with different access levels. You can administrate all maintenance activities, set up time schedules and measuring routes, input work descriptions, and generate machine fault statistics.
A single software for all your condition monitoring data
Condmaster Ruby lets you manage every aspect of your condition monitoring program with a single software providing everything you need to run your predictive and proactive maintenance successfully. In-depth KPI follow-up with Plant Performer
The Plant Performer module is very effective for demonstrating the benefits of condition monitoring and communicate its technical and economic impact to all levels of the organization. The module visualizes statistics relation to technical and economic KPIs in the OEE/TEEP area for display, evaluation and printing.
Statistics from an unlimited number of Condmaster databases can be exported and imported – such as from other divisions, production units, plants, or an entire Group – for easy comparison of data.
Using an API, Plant Performer statistics can be exported also to other systems.
By clicking "Submit", you agree that your message and personal details will be sent by email to relevant recipient(s) at SPM Instrument. You hereby also agree that SPM Instrument and its subsidiaries will have access to the information you have provided and that these data will be stored on our email server. The data will not be saved in any other way. We will not use this information to contact you about matters other than those specified in your request. We will not share your information with third parties.
Features
Condmaster Ruby comes with a set of powerful features such as: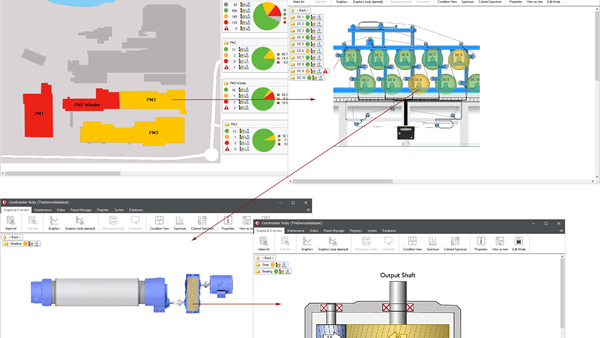 Graphical Overview
The Graphical Overview enables the visualization of plant equipment and mechanical condition in a very intuitive, top-down perspective.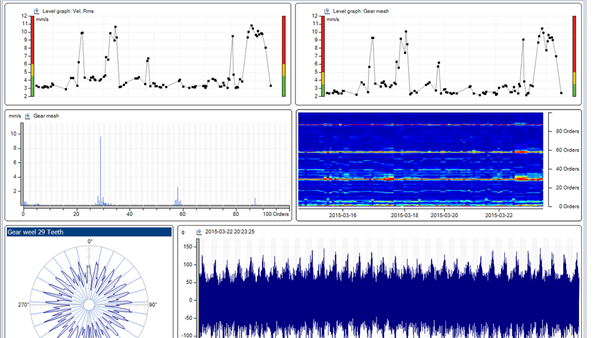 Condition View
Condition View – a powerful tool for presentation and further analysis with multiple graph types and measuring assignments combined in a single window.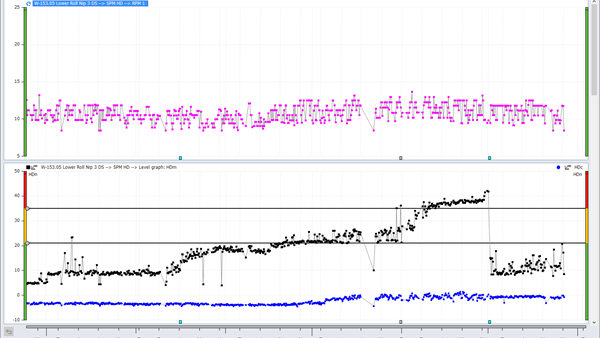 Graphic Evaluation
The Graphic Evaluation function offers an easy-to-understand condition evaluation in green-yellow-red scales on the Y-axis.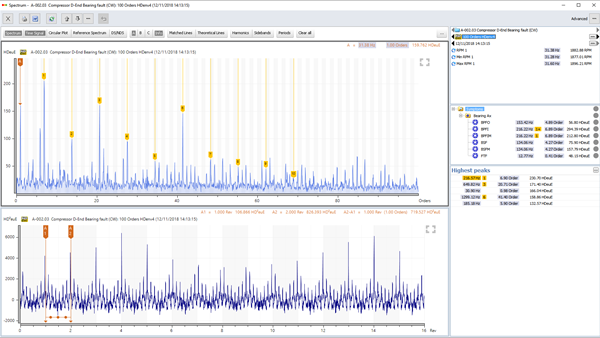 Spectrums and time signals
High-performance vibration analysis with razor-sharp spectrums and time signals bring root cause analysis to a new level of understanding.
... and much, much more. Contact your nearest sales representative today to learn more about all your analysis options with the Condmaster software.
Modules
Platform functions
The platform includes the measuring techniques HDm/HDc, Vib ISO 2372, two user defined measurements (data input as analog voltage or current, or manual), RPM measurement and temperature measurement, all for unlimited use. It also includes Measuring Point Imaging and has the capacity to play back voice recordings.
Function & Use
All additions to the platform functions are ordered separately, for either unlimited or limited use. Modules can be bought at any time as update files.
Limited use (for Leonova Diamond only) implies that credits are deducted each time the function is used in the measuring instrument. For online system Intellinova, limited use is time based. Part of your investment can thus be turned into operating costs by buying "measuring credits" instead of paying for an unlimited program.
The software is module built. It can be tailored, in performance and price, to your selected hardware and technical requirements.
Additional features
Shock pulse monitoring
HDm/HDc
dBm/dBc
LR/HR with Lubmaster
SPM Spectrum™
SPM HD Expert
Colored Spectrum Overview
Online monitoring
 Connectivity
Web and e-mail alarms
SAP and AMOS link
Rule Based Evaluation
Economy
Vibration monitoring
Vibration ISO 10816, 2372
FFT with symptoms
EVAM incl. Condition Manager
HD ENV
2 channel simultaneous vibration measurement
3 channel simultaneous vibration measurement (Leonova Diamond®)
Run up/Coast down, Bump test and FRF
Orbit analysis and Shaft Centerline Plot
12800 lines, 40 kHz
25600 lines, 40 kHz (Leonova Diamond®)
HD Order tracking