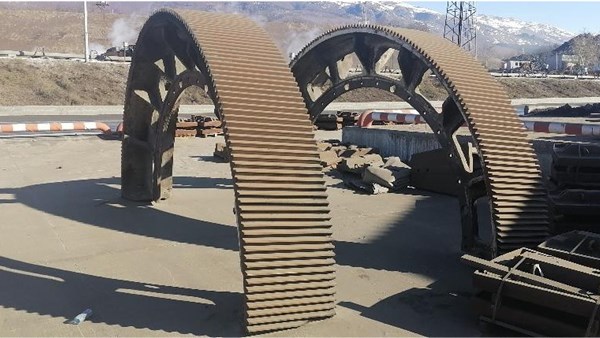 Gear damage in low-RPM pinion drive detected with Airius wireless sensors
Prominent non-ferrous metals company Aurubis Bulgaria AD utilized Airius wireless vibration sensors to detect damage in a ball mill's pinion drive gear.
Measurements on the slow-rotating pinion drive gear, operating at 187 RPM, showed a significant increase in vibration velocity from 5.5 mm/s to 21.5 mm/s between April and October 2020. The Airius sensors, measuring three-axial vibration, temperature, and enveloping, revealed dominating gear mesh frequencies, indicative of gear damage. Additional enveloping technique readings identified increasing bearing noise, aligning with the Ball Pass Frequency Inner Race (BPFI) symptom.
Despite the observed deterioration, careful monitoring allowed the ball mill to operate until its planned November 2020 maintenance, during which a broken tooth on the girth gear was discovered. This case highlights the importance of predictive monitoring in industrial maintenance for timely interventions and preventing critical failures.
Optimal for remote condition monitoring of standard production equipment, remote or inaccessible machines, the wireless Airius sensors perform time-based vibration and temperature measurements – keeping a watchful eye on your machinery.
In this case study from Bulgarian copper producer Aurubis, the SPM HD shock pulse technology is used to monitor the pinion shaft bearings of a production-critical autogenous mill in the flotation plant.
Condition monitoring is a cornerstone in the asset management of iron and steel plants. Having control of the operating condition is a must to optimize plant profitability.