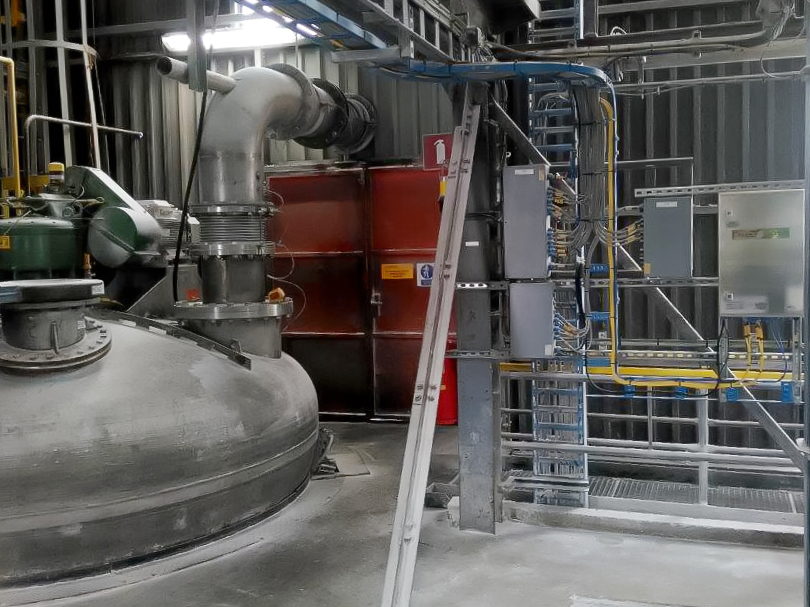 Ashland maximizes reliability and ensures BRZO risk management compliance with SPM
Worldwide specialty chemicals company Ashland's facility in Zwijndrecht, Netherlands, is a long-standing SPM condition monitoring equipment user. The plant recently placed an order with SPM Instrument Netherlands for an extension of their online condition monitoring system to include two mixers.
Due to their chemical production process and storage of large quantities of hazardous substances, parts of the Ashland Industries plant in Zwijndrecht are ATEX-classified, and its operations are subject to EU laws and regulations relating to safety and disaster response to prevent and manage the risk of serious accidents. The Dutch implementation of this EU directive is called BRZO.
Being proactive and staying on top of maintenance needs to meet these requirements is essential. In that work, condition-based maintenance plays a vital part. With their latest investment, Ashland Zwijndrecht now extends its online condition monitoring to cover two production-critical Nauta mixers with the eight-channel Intellinova Parallel EN system in the EX-approved version. The main purpose of these industrial mixers is to turn multiple substances into homogenous mixtures. Nauta mixers are especially suited to the large-volume mixing of delicate products.
In the short term, the objective of the investment is to obtain reliable vibration data to help identify potential and developing mechanical and lubrication problems in these mixers, where a potential failure would reduce production capacity by 50%. With MTTR (Mean Time To Repair) up to three days, maintenance planning is key, making the prevention of unplanned downtime and extending machine lifetime the long-term goal. To further increase reliability, an oil lubrication system has been installed during mixer overhauls.
The Intellinova system's ease of use and the excellent support availability were two important factors in Ashland's decision to move forward with the expansion of condition monitoring to include the Nauta mixers. The system on the first of the mixers was recently commissioned, while the second mixer has been overhauled with the monitoring system scheduled for installation in the coming months.
Ashland Industries has adopted the '20 keys' evaluation and rating system for workplace improvement on reliability and asset integrity. The plant combines this with a condition monitoring program for critical equipment, based on risk assessment.
Equipment criticality has been assessed by evaluating the impact of failure on asset utilization, safety, environment, and product quality. Depending on the criticality rating, equipment has been incorporated into Ashland's condition monitoring program – online and offline. Production equipment monitored with SPM equipment includes cellulose cutters, pumps, mixers, agitators, centrifuges, and low-rpm drums. Maintenance planning for these assets is based on the results of the condition monitoring program. Going forward, more focus will be given to high-criticality equipment, system integration with process data, and data visualization in Ashland's Scada system – all with local support from SPM Instrument Netherlands.
Ashland is a worldwide additive and specialty ingredients company, employing about 3,800 people in more than one hundred countries. The Zwijndrecht plant on the outskirts of Rotterdam is one of the Group's largest production facilities for cellulose derivatives. The plant produces NatrosolTM, a cellulosic polymer used as an additive in a wide variety of industrial and consumer products, such as adhesives and sealants, advanced ceramics, personal care and cosmetic products, oil and gas technologies, paint and coatings, and pulp and paper.