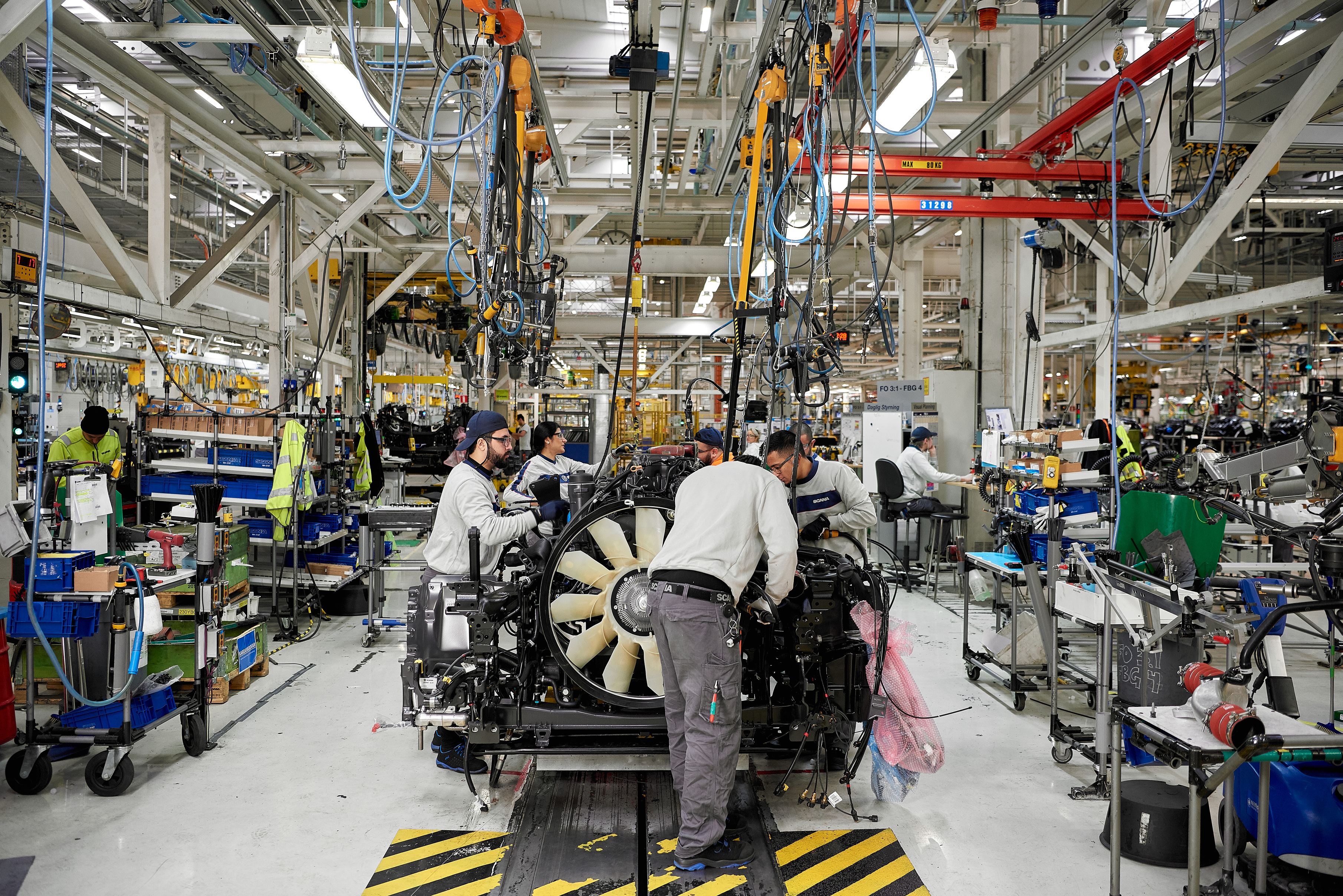 Scania monitors air compressors online with patented HD technology
After several costly breakdowns, Scania Industrial Maintenance wanted to find a way to make compressor maintenance more efficient. Together with SPM Instrument, they started a project focusing on Smart Maintenance solutions for this production-critical equipment. The project has yielded good results and convincing proof that condition monitoring on both new and older compressors is a profitable investment.
The reliable supply of compressed air is vital to Scania. At the plant in Södertälje, Sweden, ten compressors supply the entire production with compressed air, which is used in air-powered hand tools and machine tools, among other things. If any of these fail, the entire production is at risk.
Scania Industrial Maintenance aims to conduct condition-based maintenance where possible. However, compressor manufacturers commonly recommend time-based maintenance, where components are replaced based on the number of operating hours instead of the actual operating condition.
Despite Scania following an established maintenance plan, several emergency breakdowns have occurred over the years. In conjunction with a major breakdown two years ago, Scania decided to start a development project focused on Smart Maintenance for compressors, with SPM Instrument as the chosen partner. Using the advanced and multifunctional online system Intellinova Parallel EN and the dual-technology accelerometer DuoTech, which measures shock pulse and vibration with the patented HD Technologies in the same transducer, the mechanical condition of the compressors is measured continuously and with such high precision that it is possible to pinpoint symptoms down to individual bearings and gears.
Three months after installation, the system detected gradual deterioration of a bearing on the input shaft in one compressor gearbox. By replacing the bearing only – not the entire pressure stage and all bearings in the gearbox as suggested by the supplier – Scania saved 300,000 SEK and minimized the downtime. Shortly afterward, the system caught accelerating bearing damage in a pressure stage that had only been in operation 40% of the expected operating time, saving Scania SEK 350,000 because the supplier took the cost under warranty.
In October 2020, the shock pulse levels in one of Scania's newest compressors began to rise alarmingly. During a first inspection, the suppliers could not detect any deviating behavior using their analysis method and Scania continued to run the compressor. In January 2021, the trend curve escalated further, at which point the supplier found a degradation in the pressure stage. The compressor was stopped immediately, and a complete pressure stage replacement was recommended. At that point, the compressor had only operated a small portion of its estimated service life. Without the supplier warranty, Scania would have had a repair cost of approximately SEK 1,000,000.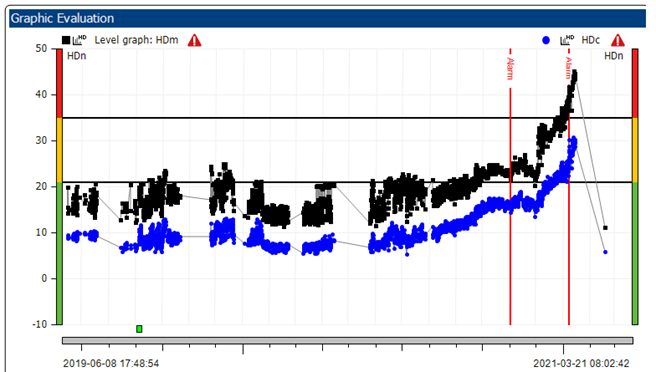 The levels in a compressor are rising alarmingly. After repairs, the trend returned to normal levels.
Håkan Hedlund, Senior Application Engineer at SPM Instrument, said: "The examples from Scania clearly show the importance of implementing condition monitoring on both new and old compressors. Correcting faults during the warranty period, or being able to confirm that service and repairs have been carried out correctly, can save a lot of money. It will also be possible to maximize the life of the machine parts – in Scania's case, there are examples where it has been possible to operate the compressors four times longer than manufacturer recommendations."
Anders Ramström, Senior Maintenance Engineer at Scania, commented: "The project on Smart Maintenance for compressors has been incredibly rewarding. Scania has knowledge of the process and many compressors of varying ages where test measurements could be performed. SPM has experience and knowledge of measurement technology and which parameters are important to follow. When end users and manufacturers of condition monitoring instrumentation work together, the result is usually very good. Scania wants an increase in technical availability and a decrease in unnecessary maintenance, SPM wants to find new business areas, which together become a great driving force for both parties."
The Smart Maintenance project has enabled Scania to operate the compressors longer and to replace pressure stages based on operating condition, when the monitoring system indicates it is time. With the help of additional parameters and integration with Scania's IoT platform, Scania Industrial Maintenance hopes to develop its condition-based compressor maintenance even further.
Advanced vibration monitoring from SPM Instrument is also installed on the four compressors in Scania's new foundry, making it possible to monitor their condition from the very start.
Scania operates in about a hundred countries and has about 49,000 employees. Scania Industrial Maintenance is a wholly-owned subsidiary of Scania CV AB and one of the largest technical production support companies in Sweden, with 900 employees and a turnover of more than SEK 1.9 billion (2018).