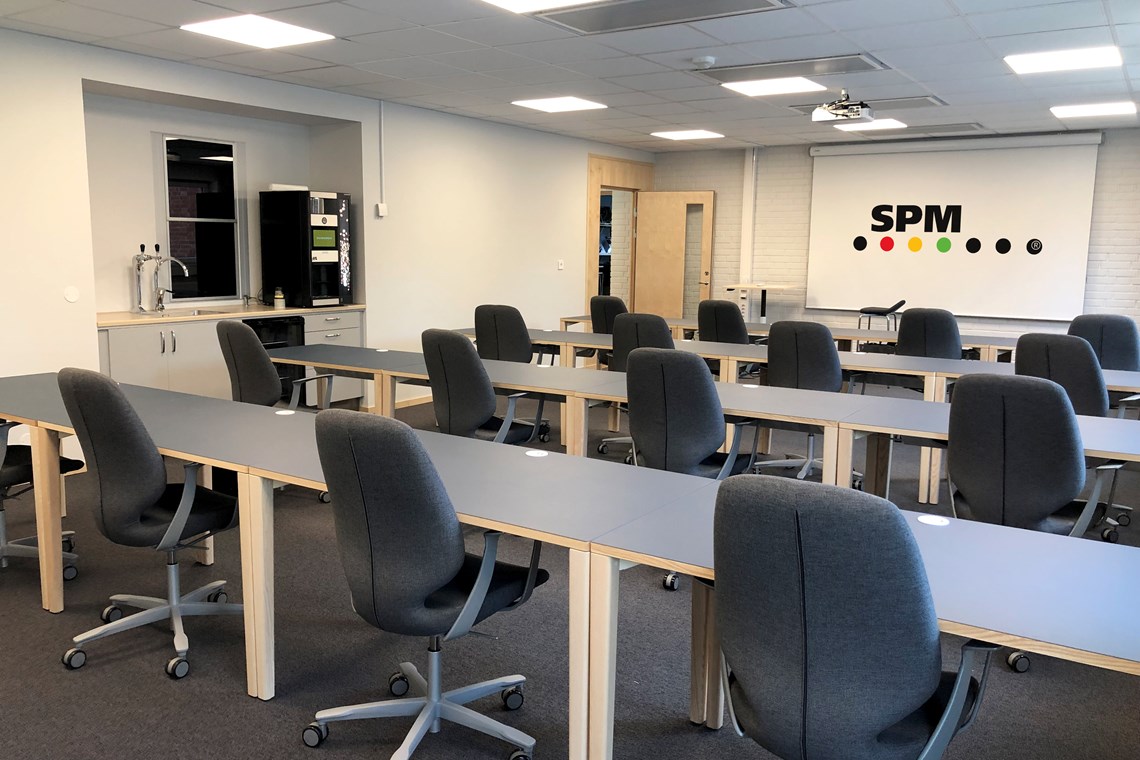 SPM Academy 2.0 – a brand new learning centre for maintenance professionals
Since the very beginning, education has been at the heart of SPM Instrument's activities. Housed in a 1970s building, SPM Academy has seen some 150 attendees participating in on-site classes each year. However, with the pandemic outbreak, classes moved online, and the SPM Academy premises have been empty, thus creating an opportunity to start building an entirely new learning environment.
Rikard Svärd, Global Sales Director at SPM Instrument, explained: "We know that our products and solutions, and the value that they bring, are highly dependent on competence. Therefore, it is essential for us to continuously increase the knowledge base and educate our internal organization, as well as our customers and end-users."
SPM Academy instructor Daniel Sandqvist continued: "The goal with the renovation has been to create opportunities for course attendees to meet both physically and online, with meeting rooms and classrooms where we can mix traditional education with online classes. With new social spaces and classrooms designed for convenience, our guests can entirely focus on their education."
The renovation has been ongoing for the past six months, ranging from ventilation and environmental updates, improved acoustics, high-tech learning solutions, and improved comfort to general modernization of the building's interiors and layout. Great effort has gone into installing energy-efficient alternatives for controlling lighting, ventilation, heating, and cooling.
Architect Tommy Saarela from AQ3 Arkitektur AB said: "The idea behind the project was to create a calm and sober environment that will last over time. A new entryway has made the building accessible for everyone. A pathway leads from the newly built parking spaces, which offer charging posts for electric cars. At the entrance, there are spaces to have a cup of coffee, work, or charge one's devices. The kitchen facilities have been updated to today's standards and match the activities taking place in the building. A new patio allows for outdoor breaks when the weather permits."
From the 5th of October, SPM Academy again offers on-site training in its new and upgraded course facilities, starting with an Accredited Vibration Analysis CAT I course. This fall, SPM Academy hopes to pick up the pace and offer more courses in both Swedish and English.
Christer Larsson, SPM Academy, finished: "The new facilities set the starting point for SPM Academy 2.0, following the SPM Instrument product portfolio by offering training facilities that are smart, user-friendly, and safe. We are also working on continuously improving our course offering, recently adding the "Condmaster for Advanced users" course and currently working on a course on system integration to meet the needs of our users. We have been a Mobius Institute Approved Training Centre for many years, and we can now offer digital exams on our on-site computers – making it easier than ever to become a certified vibration analyst."