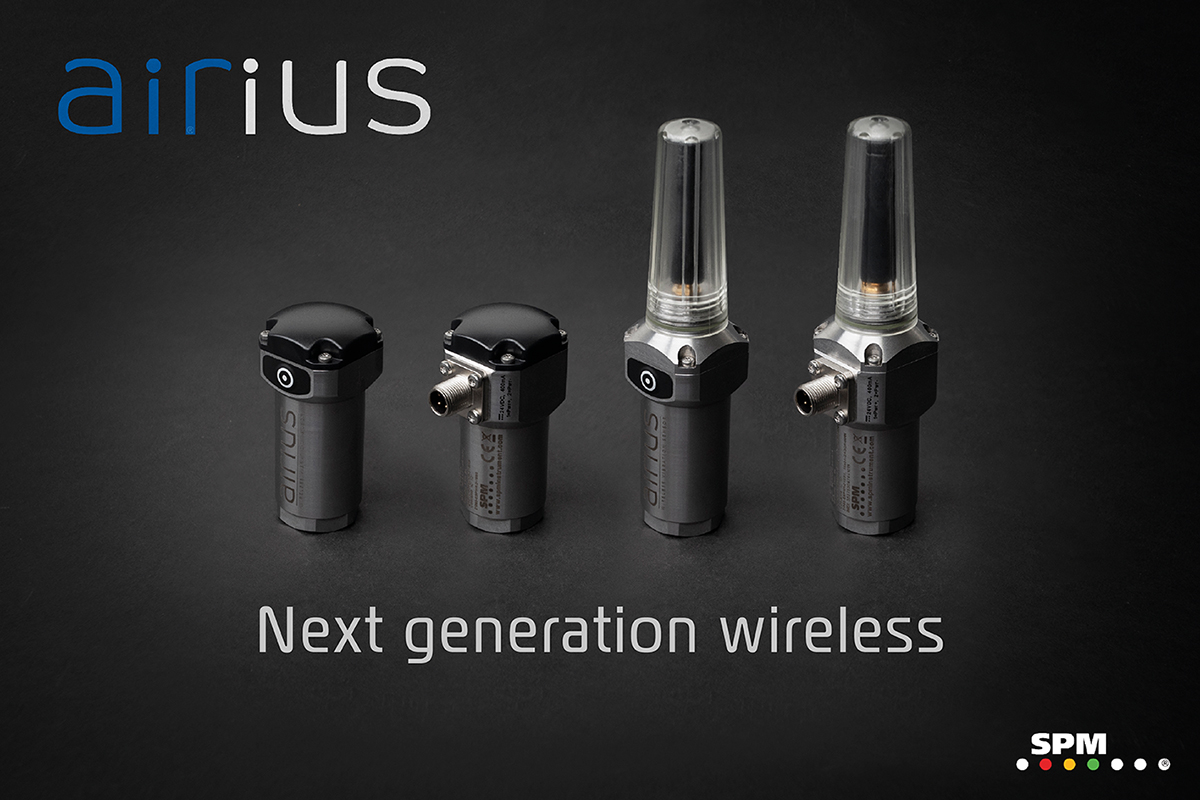 SPM Instrument announces updated version of the Airius suite of wireless vibration sensors
Now updated to include a number of enhancements in design and performance, the Airius wireless vibration sensors are a reliable and high-quality solution with a very competitive lifecycle cost. True to SPM quality and forward-thinking, Airius offers optimal vibration monitoring efficiency with low environmental impact.
Much more efficient than manual, route-based measurement, the Airius sensors allow automated vibration monitoring of assets – without incurring high costs for cabling or gateways. Measuring temperature and triaxial vibration using the enveloping technique for early detection of bearing and gear faults, Airius gets the job done with a minimum of manual labor while also providing a safer working environment.
Big changes start small
The Airius sensors are an excellent starting point for plants looking to initiate a condition monitoring program. The sensors are part of the SPM ecosystem of condition monitoring products, sharing the same software and database environment, making it easy to level up the scope of condition-based maintenance. Easy installation and configuration procedures make for hassle-free deployment and quick return on investment.
Exceptional value
From a lifecycle cost perspective, Airius provides best-in-class overall value. With its robust design and the possibility to replace batteries on-site – rather than replacing the sensor itself – an Airius wireless vibration monitoring solution will deliver performance and sustainability for many years. The sensor is also available with an external power supply.
In an IIoT context, the security of interconnected devices is only strong as the weakest link. The Airius sensors are secure by design. Whether opting for local or cloud-based data storage, Airius users are always in control of their data.
Airius II
Available for the 10-1000 Hz or 2-5000 Hz measuring ranges, the Airius II update brings multiple enhancements, including:
The 10-1000 Hz version offers significantly improved measurement performance and higher resolution. The 2-5000 Hz version also offers a high resolution as well as an increased measurement range.
Enhanced algorithms for optimized energy efficiency.
External power supply versions can now be continuously connected, hence enabling triggered measurement.
More robust push-button for increased sealing effectiveness and the benefit of improved tactile feedback from user input.
Streamlined configuration and management of sensors in the SPM Connect app and the Condmaster Ruby software.
With the possibility to transfer measurement data via REST API and OPC UA, the sensor works well for IIoT system integration in smart factories.
Another powerful Airius feature is the capability to assign RPM values to measurements using global values, as well as the possibility to connect process parameters.
Rated IP69, the Airius sensor takes on the most demanding industrial environments with great resilience – indoors or outdoors, in remote, inaccessible, or hazardous locations, and without additional enclosure.
"The Airius sensor builds on over fifty years of experience developing reliable and industry-leading solutions for condition monitoring. With Airius, our goal has been to create a remote monitoring solution that considers essential parameters such as performance, safety, and usability, while also taking into account environmental aspects and total cost of ownership. The Airius II update is part of our ongoing continuous technology improvement efforts." – Johan Nilsson, CTO, SPM Instrument
The updated Airius sensors will be available for delivery from the later part of May, 2022.