SPM Instrument awarded the Soliditet Diamond Award 2010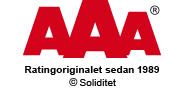 SPM Instrument is one of fifteen companies in Sweden to receive the Soliditet Diamond Award 2010 for reaching the highest creditworthiness, AAA, during twenty consecutive years. The Soliditet Diamond Award is proof of a well-managed and economically stable business.

AAA Soliditet AB, the leading credit and business information company in the Nordic countries, instituted the Diamond Award in 2009 in conjunction with the company's 20th anniversary. The purpose is to recognize companies who have been able to maintain the highest credit rating, AAA, in the Soliditet credit rating system for twenty years.
The AAA credit rating system was launched in 1989 and covers all limited companies, trading companies, limited partnerships and sole proprietorships. The probability of attaining AAA for twenty consecutive years is only 1.35%.
The 2010 award recipients also include Stora Enso Fors, Stora Enso Kvarnsveden, Kone AB and Seco Tools, among others. The award ceremony takes place in conjunction with the AAA Day in Stockholm, Sweden on September 30th, 2010.