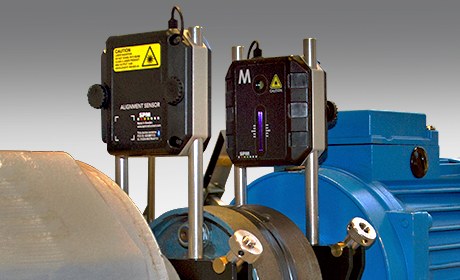 SPM Instrument launches new wireless alignment sensors
SPM Instrument, Sweden, leading worldwide provider of condition monitoring technology and products, now announces the release of new wireless laser alignment sensors within the LineLazer concept for efficient and user-friendly shaft alignment.
LineLazer is a precision shaft alignment solution for Leonova Diamond®, SPM Instrument's most sophisticated data logger. This dual laser system for quick and reliable shaft alignment is suitable for most combinations of machinery; horizontal, vertical or flange-mounted, with coupled or uncoupled shafts.
Reliable and hassle-free machine alignment with wireless communication 
Designed for tough and challenging environments, the LineLazer machine alignment solution comes with new, smaller-sized alignment sensors rated IP65. The low weight in combination with wireless Bluetooth communication provides optimal convenience, safety, and ergonomics.
The sensors use digital signal processing to easily and automatically distinguish from interfering light sources. High-precision digital CMOS linear image sensors provide maximum accuracy.
The Leonova Diamond instrument is the control and display unit, with a powerful processor that enables very short calculation times. A user-friendly graphical interface guides the user through the entire alignment procedure. Automatic calculations and instant correction and alignment data result in perfect shaft alignment. Functions for soft foot check, feet lock, thermal growth compensation and tolerance checks are built-in.
The LineLazer Alignment kit for Leonova Diamond is complete, comprising align­ment sensors, robust aluminium brackets, extendable chains, rods, battery charger, cables, Bluetooth dongle and tape measure. A convenient carrying case is optional. The kit fits a multitude of applications, for example, compressors, gearboxes, generators, and pumps.
For technical details, please visit www.spminstrument.com.
For further information, please contact:
SPM Instrument AB
Telephone +46 (0)152-225 00 or info@spminstrument.se
Download press release.