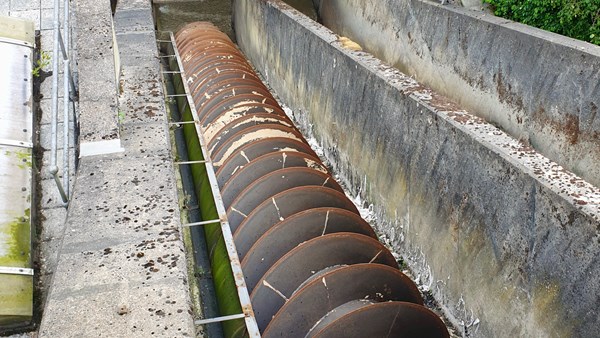 Bearing damage in 30 RPM screw pumps
Following successful results with condition monitoring using portable instrumentation from SPM on RBC bearings, British public utility company Severn Trent sought to expand their condition monitoring program to include rotary screw pumps, which had long been a troublesome asset.
This case study describes findings on two top bearings during proof-of-concept measurements using the portable instrument Leonova Diamond in one case, and a fixed installation with the Intellinova Compact online system in the other.
Following a previous gearbox failure on the screw pump, the top bearing was allegedly unaffected; yet measurements revealed raised shock pulse levels corresponding to the outer race defect frequency. When the bearing was disassembled, there were signs of scoring and smearing.
The second case clearly demonstrated the merits of the HD ENV technology which picked up increasing vibration levels, whereas acceleration measurements indicated no significant amplitude changes over the same time period. Lubrication of the top bearing only resulted in a temporary drop in the HD ENV levels, thus indicating bearing damage.
The results of these trial measurements confirm the merits of employing SPM's HD condition monitoring technologies on screw pumps, where potential failures pose significant environmental risks, along with costly repairs and hefty fines.
High-definition condition monitoring technologies provide exceptional pre-warning times, maximizing the planning horizon for maintenance and repairs. In turn, this enables fully utilizing asset life, cutting repair costs, and minimizing the consequences of unplanned downtime.
With Intellinova, our unique HD condition-monitoring technologies can be fully utilized to successfully provide earlier warning of mechanical problems than any other monitoring technology.
Leonova Diamond® is an advanced and powerful data analyzer for high-efficiency measuring routes in rough industrial surroundings.