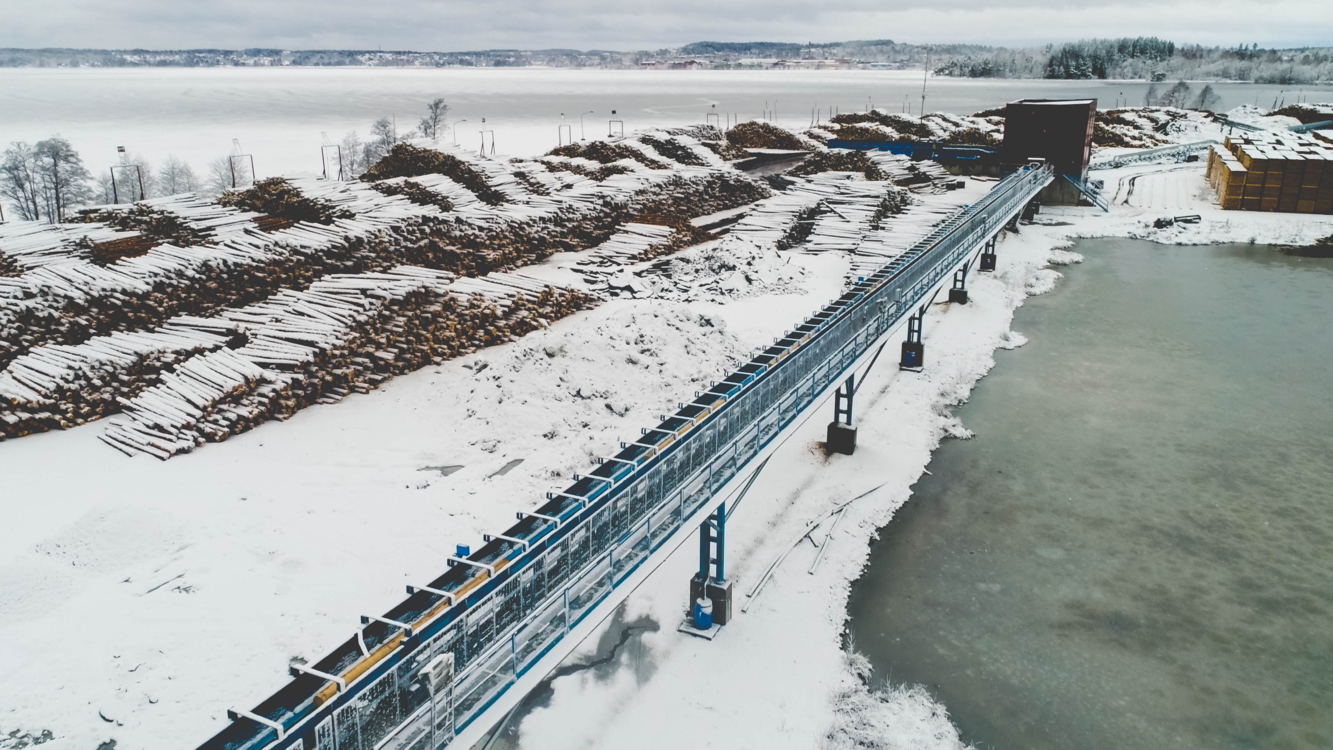 Moelven Valåsen invests in small-log saw line with online system from SPM
Moelven Valåsen AB sawmill in Karlskoga, Sweden is part of the Norwegian wood and building materials group Moelven. The company is now investing in a new saw line for small logs, where Finnish Veisto OY will supply the HewSaw R200 1.1 V4 saw machine. When the machine is delivered and commissioned at Moelven Valåsen in the spring of 2024, the online system Intellinova Parallel EN will also be installed to monitor the mechanical condition of the saw line.
Moelven Valåsen is the Group's largest sawmill in production capacity and sales. In recent years, Valåsen has made significant investments in developing the sawmill's capacity and efficiency, such as a new energy center and the upcoming new saw line. With a 70–250 m/minute feed rate, the saw machine HewSaw R200 1.1 V4 from Veisto is an efficient machine for processing small timber. HewSaw Sweden has recently equipped similar sawing machines from Veisto with Intellinova Parallel EN at Swedish sawmills Vida Wood Nössemark and Setra Skinnskatteberg.
Condition monitoring for more efficient maintenance
The online system Intellinova Parallel EN – with thirty-seven DuoTech accelerometers and ten temperature transmitters installed on reducers, sawing, and edging units – will be an essential component in ensuring the saw machine's mechanical condition. Thanks to the system's patented measurement technologies HD ENV and SPM HD, high-resolution machine condition data can be integrated into the HewSaw MP maintenance system.
Thomas Haglund, CEO of Moelven Valåsen, justified the investment: "Moelven Valåsen has two saw lines: one for large and one for small timber. The latter is now being replaced with a machine line with the highest capacity. High personal safety, flexibility, sorting possibilities, and availability are keywords for the decisions made during planning."
In a comment, Claes Backlund, CEO of HewSaw Sweden, said: "It is very satisfying that both R200 1.1 machines we will be commissioning in 2024 will be equipped with online condition monitoring from SPM. We will be able to monitor these machines efficiently and compare the machines in parallel in their production. Our maintenance system HewSaw MP will have better input, and we will be able to provide even better feedback to these R200 1.1 customers."
About Veisto Oy and HewSaw
Finnish family business Veisto Oy plans and manufactures production lines under the HewSaw brand. About 80% of production is exported to other markets. In addition to Finland, the most prominent export areas are Sweden, the Baltics, North America, Russia, Central Europe, and the planted forest areas in the southern hemisphere. Veisto has over 250 employees.
About Moelven
The Moelven industrial Group is one of Europe's most significant players in sawn wood products, with approximately 3,500 employees and a turnover of just over SEK 11 billion. The production units are located in Sweden and Norway and are organized into three divisions: Timber, Wood, and Building Systems. Together, the fifteen sawmills produce about 2 million m3 of spruce and pine annually.
Moelven Valåsen produces 375,000 m3 annually of sawn wood products from large and small diameter logs. The raw material is pine and spruce from nearby forests. The sawmill has 107 employees and a turnover of SEK 750 million.
More news from the wood processing industry